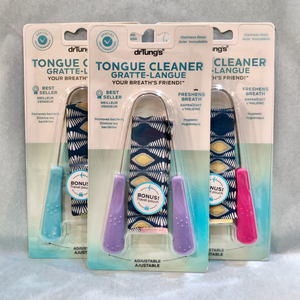 Tongue Cleaner
Your breath's friend! Comes with a bonus travel pouch.
Freshens breath, hygienic, removes bacteria, adjustable width.
Cleans in just 10 seconds. For fresher breath and a cleaner mouth, use DrTung's Tongue Cleaner. It glides on the tongue and removes harmful bacteria and debris even from the back of the tongue. Dental experts say it is about 5X more effective for tongue cleaning than a toothbrush!
Use with one hand or two for more precise control and comfort.
TO USE: 1- Place cleaner on tongue as far back as is comfortable. 2- Gently glide the cleaner forward, 'scraping' off unwanted matter. 3- Repeat 3 or 4 times. 4- Rinse well. 5- Use twice daily for best results.
Stainless steel. Dentist recommended.
Made in China.
---
We Also Recommend