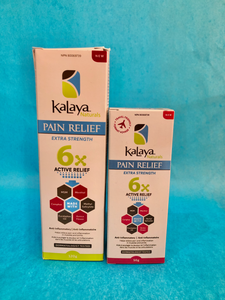 Kalaya Extra Strength Pain Relief Cream ($9.95-$22.95)
Available in 50 ml travel size or 120 ml family size.
Extra-strength, active pain relief and anti-inflammatory cream.
Proven fast acting, non greasy formula delivers invigorating muscle and joint pain relief on contact, now offering enhanced herbal anti-inflammatory action with Arnica. Used in herbal medicine to help relieve pain and/or inflammation in muscles and joints. Temporarily relieves aches and pains of muscles and joints associated with one or more of the following: simple backache, lumbago strains and sprains (involving muscles, tendons, and/or ligaments, and arthritis.
Made with: Methyl Salicylate - Menthol - MSM - Camphor - Eucalyptus Oil - Arnica Flower.
---
We Also Recommend