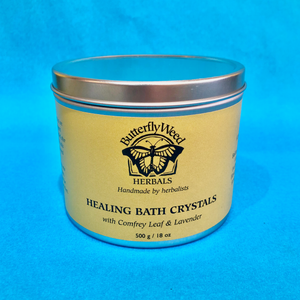 Healing Bath Crystals
500g (18oz).

With Comfrey Leaf and Lavender.
This specific formula combines herbs that are anti-inflammatory, vulnerary, astringent and antiseptic to provide comfort and relief after childbirth. For general use, these bath salts nourish the skin and are soothing to tired muscles and sore feet. 
To use: Steep half of the contents into 2 litres of boiled water for 15 minutes. Strain the herbs and sit in the liquid for 15 minutes, twice daily. If you have stitches, limit the sitz bath to once daily. 
Handmade by herbalists.
(By "Substance"/"Butterfly Weed"/"Matter Company")
---
We Also Recommend