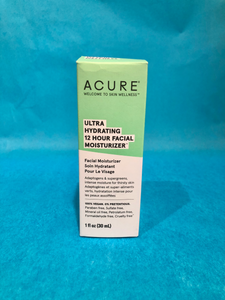 ACURE Ultra Hydrating 12 Hour Facial Moisturizer
30ml (1 fl. oz).
Intense moisture for super thirsty skin types. Adaptogenic ashwaganda, holy basil, reishi, cordyceps, and tumeric tooth while antioxidant rich spinach, kale, and spirulina de-stress.
To use: "Apply to clean face in the morning when you are like ugh why do I have to be up this early. Stupid alarm clock."
100% Vegan.
Paraben free, sulfate free, Mineral oil free, Petrolatum free, Formaldehyde free, cruelty free.
"We believe that skin wellness means helping your skin thrive with soothing hydration and botanical ingredients.
---
We Also Recommend